Introduction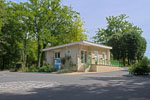 Many reasons for choosing the CREPS
Open 360 days, situated in the heart of Poitou-Charentes region, in a woodland away from urban life, the CREPS geographical location is an asset for athletes.
It is located in a very well preserved environment which makes it the perfect place for outdoor activities.
· environmental protection zone Natura 2000 ( 5 plant species protected )
· situated on the GR 364 ( hiking trail ) and on the trail of the 3 battles of Poitiers.
· tree top adventure challenge
· Orienteering course
· mountain bike trails
· bike park ( BMX)
· swimming-pool

At the CREPS, you will find a wide range of premium sports facilities and equipment.
· sports facilities, meeting rooms, accomodation
· a self-service restaurant
· new and newly renovated sports facilities : dojo, fitness room, multipurpose sportshall, basketball hall , clay tennis courts
· large carparks ( cars and buses )
· meeting and conference rooms ( lecture halls, amphitheatre, classrooms, for conferences, seminars, meetings...)
Opening hours
September to June
· Monday to Friday : 8am-7pm
· Saturday : 8am-12pm
Answering service during closed hours
Summer ( July and August )
Every day : 8am-12.30pm / 1.30pm-5pm
Answering service during closed hours.